Ebola Epidemic – Rotary helping friends in Bo, Sierra Leone
Rotarians in Warwick and Leamington have watched the unfolding of the Ebola epidemic in Sierra Leone with horror as it has affected places which they actually know and have visited. With so much confusion – how to help our friends?
One World Link was set up in 1981 between Bo in Sierra Leone and Warwick and Leamington Spa. Over 30 years there have been exchanges of people between our towns, teachers, councillors and professional advisors. An education programme with children in each country learning about each other, a community centre opened in 2008, and in 2013 the club sent money for a water pump for Sewa Road school, one of several projects helping with water, sanitation and refuse collection.
With over 10,000 cases of Ebola in Sierra Leone and nearly 3,000 deaths, the District of Bo is badly affected. The Rotary Club of Warwick has contacted the Rotary Club of Bo offering help. The Bo club has clear plans for helping to tackle the outbreak, which are partly implemented but in need of additional funds. They are focussing on two programmes; firstly an Ebola awareness raising campaign; and then caring for orphaned children. The projected 'set up' costs are approx. £11,000, additionally a monthly cost of £3,300 food for children in 'interim care', (prior to relatives being traced).
Warwick Rotary has made an immediate donation to Bo from their fund for international disasters, and John Hibben of their International Committee is now contacting other local Rotary Clubs and local businesses to raise further funds to send in February. He said "club members have friends in Bo and we could not stand by without doing something to help, it makes it personal."
We show below a message received from Bo:
We finally received the money sent late yeaterday in an Indian run Money Gram the Bank as usual we were told had there Money Gram off. I have given the cash to our treasurer and he has transfered into the Response account.
We intend to purchase food stuff for Ebola Child Survivours today and do distribution to them tomorrow. I shall send pictures and  clips from the exercise tomorrow.
Thanks and we do appreciate deeply.
Please find attached a copy of the moneygram slip
God Bless
Regards
Rtn Edward
John Hibben tells us that a further £1,600 will be sent later this week, thanks to the support of local donors.
Anyone wanting to help the community in Bo can send money to the Rotary Club of Warwick c/o Rtn Peter Clayton, Hon. Treasurer, 66 St Andrews Crescent, Stratford-upon-Avon, CV37 9RP.
See attached pictures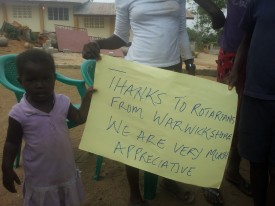 Contact : David Smith – 01926 426307   International Committee Chair
News