Ron Flint of the Rotary Club of Warwick told his colleagues how a meeting of the club 6 years ago changed his life. A member of charity Red Balloon came to talk about their efforts to set up a school near Warwick for children who had been bullied.
He heard that many children were unable to attend school, and had even committed suicide through the relentless pressure of bullies, who in these days of "social media" could follow their victims night and day. This led him to get involved with what is now Northleigh House School, near Hatton, which opened in 2010 under the stewardship of Viv Morgan now chair of trustees.
The school, motto "Overcoming barriers for bullied children", now has 20 children between the ages of 11-17, half of whom have felt so desperate that they have attempted suicide. The school offers a safe calm and nurturing environment in which children reclaim their self-esteem and resume their education, some returning to mainstream schools.
Whilst local authorities eventually support the children's education, the school requires additional funding to support the high ratio of staff and care given to the young people. It depends on charitable funding, the first grant being from the Rotary Club 6 years ago, and several local companies have provided much-appreciated assistance.
Thanking Ron and Viv for their presentation Rotarian Ian McBeath said that most people would be horrified to think that such young people felt they had nothing to live for. The club made a further contribution to the work of Northleigh House and would like to encourage others to provide much needed funding.   Please visit their website  to learn more of the very valuable work being done at the school.
The picture  shows Viv Morgan (left) with President Jackie Crampton and Rotarian Ron Flint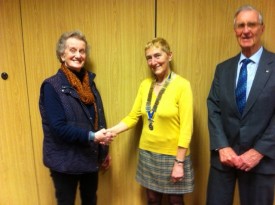 News