This year's Thai Festival will run for two days – 10am until 6pm on Saturday 2nd June, and again for the same times on Sunday 3rd June.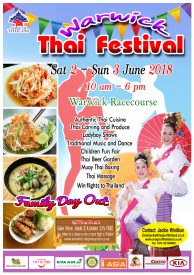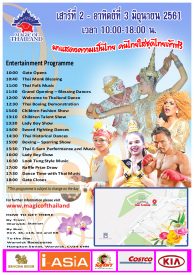 Calling the Thai community, and all our friends in the area…come and have a great day out, or make it a weekend, and join us at Warwick Racecourse for our 14th Thai festival on Saturday 2nd & Sunday June 3rd. Meet up with your friends, or make new ones surrounded by the sights and sounds of Bangkok.
This year the Rotary Club is teaming up with new organisers – "Magic of Thailand" to stage its popular festival and is hoping it will be better than ever. For 2 days at the weekend from 10.00am to 6pm, the racecourse will host Buddhist monks, sword fighters, dancers and musicians, and there will be plenty of stalls selling Thai food, drinks, spices, crafts, and massages. The racecourse is next to the town centre and parking is handy.
Buddhist Monks will start the festival off with their ceremonies, and the traditional reception of gifts from the traders. On stage throughout the day will be a top class presentation of Thai culture, with dancing, lady boys, sword fighting, music, local boxers Muang Thai and cookery demonstrations. Children's dancing and talent show as well as a play area should keep the children happy.
Sponsors Singha Beer, I-Asia, EvaAir, Costco and Kia cars are supporting the event, with all profits going to charitable causes.
Tickets are available on-line at www.warwick.thejockeyclub. for £4, including a raffle ticket with a chance to win a return flight to Thailand; or at Warwick Tourist Office.
So put June 2nd & 3rd in your diary, and come prepared for a great day out.