A fantastic night at Warwick Town Bonfire Sat Nov 7th
Thousands turned out for a great night last Saturday at Warwick Town Bonfire down at the racecourse. After the early rain, the evening was mild and dry, and a brisk trade was soon underway with hot food and drink, and little children enjoying the rides.
Cllr Mandy Littlejohn, Mayor of Warwick accompanied by the Presidents of Rotary and Lions, who organised the show, and guests made their way through to light the Bonfire. Cllr Littlejohn asked Eleanor Bobe of Coten End School who designed the mayoral Christmas card to help her light the fire. This burned fiercely with the three Guys made by the young pupils of Newburgh and Westgate schools going up in flames.
Crowds were then treated to a spectacular Firework show, which this year was set to music, with plenty of whizz and bang, set to songs such as Skyfall, and Lucy in the Sky with Diamonds. Everyone seemed to agree that it was a really great night.
John Taylor, Chair of the Bonfire Committee said "we are delighted that Warwick town people turned out in their thousands for their regular show, and are most grateful for their support."
Proceeds are distributed to local charities and good causes by the organising clubs.
The committee would like to acknowledge the support of Warwick Racecourse, Warringtons, Baxi Heating, Bovis Homes, Murley Hyundai, Unipart, The Tuckery, and Hilton Hotel, as well as all the local retailers who helped with the sale of advance tickets.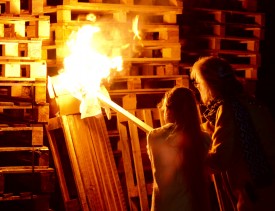 The Mayor Warwick, Counc. Mandy Littlejohn and Eleanor Bobe light the fire
Photographs by Gillian Fletcher
Past Events