All change at the top for Warwick Rotary Club
On Wednesday June 24th the members of the Rotary Club of Warwick met to mark the handover of the Presidency of the club when President Jackie Crampton handed over the chain of office to incoming President Jon Wassall.
Jon will be the 51st president and has been a member of Rotary since 2009 during which time he served as Secretary for 4 years.   The club will celebrate the 50th anniversary of its founding Charter on 9th August and Jon starts with a new chain of office.  He announced that his charities for the year will be Molly Olly's Wishes and the Aylesford Unit at Warwick Hospital.
During her year as President Jackie's chosen charities were Warwick Citizens Advice Bureau and Cancer Research UK, who have each received cheques for £1,500. Jackie thanked members for their support in raising this and their hard work running events in Warwick.   During the last year Warwick Rotary Club raised over £20,000 which was donated to a variety of local charities and good causes and she thanked all the local businesses and individuals who work with us in achieving this magnificent amount.
On receiving his chain of office – a new one for the next 50 years – Jon praised outgoing President Jackie for her excellent leadership of the club over the past year and for her great enthusiasm and hard work which will make it a very hard act for him to follow.   His comment that she has raised the bar of the office of President to a new level was met with loud applause by all the members present.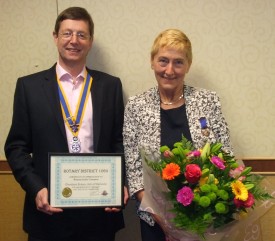 The picture shows Jackie with flowers presented to her by Jon, whilst he holds a certificate that was presented to her by the District Governor elect, Paul Jaspal, in recognition of all the work she has done within District 1060.
The next event for the club will be the Thai Festival, to be held in central Warwick on Sunday July 12th.
News