Richard Phillips MBE, Leamington Music Festival Director, told a meeting of Rotary Club of Warwick last week about his lifetime of bringing the arts and music to the people of Warwick and Leamington.
Richard was born and educated in Warwick and returned to work in the town in the '80's after working at Sadlers Wells Opera, and setting up the York Music Festival. Starting with involvement in Warwick Arts Week, Richard initiated the successful programme of orchestral concerts with Fireworks at Warwick castle.
For 25 years he directed Warwick Arts Society with 39 Festivals in Warwick and Leamington. Alongside these activities he encouraged and set up music festivals all over the country, and founded the Warwick Words Literary Festival in 2002. Leamington Music was established in 2006 and with the Leamington Music festival in 2016 Richard accomplished his 100th music festival. After 50 years bringing music to the community, Richard continues to take music into local schools taking visiting artists of international standing to encourage children to enjoy classical music.
Richard was awarded an MBE in 2016 for his services to music and the arts, as well as an "Outstanding Contribution to British Arts Festivals" Award by the British Arts Festival Association. Leamington Music has a programme of concerts throughout the area this autumn which you can book via the Spa Centre booking office.
Thanking Richard, Rotarian Graham Sutherland congratulated a "local boy" for an amazing career, many of his audience had enjoyed attending the concerts over the years and looked forward to the coming season. See www.leamingtonmusic.org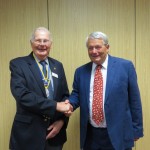 President John Taylor (left) congratulates Richard Phillips
News