How a passion for theatre led to Dream Factory.
At a recent meeting, Stuart McGill told Warwick Rotarians about his passion for developing the artist in young people which led to the construction of the Dream Factory complex in the Playbox theatre off Tapping Way, next to Chase Meadow, Warwick.
The theatre celebrates 30 years in 2016 as a unique theatre and performing arts company for young people. Youngsters from all over Warwickshire, 3 to 23 years old, have the chance to develop their talents in theatre and related artistic forms.
The theatre works with local schools and has a Shakespeare Young Company, it offers circus training, musical training, and technical skills, and has a film and digital media studio. With workshops, performances and masterclasses, young people develop their skills and confidence, and have the chance to tour, both here and abroad. Dream Factory has an impressive track record with many former students now employed on stage and TV.
Over half term there are lots of activities to keep youngsters busy both in the small performance area in the lobby, or in the main theatre. The next show will be "The Princess and the Pea", aimed at younger audiences, followed by "Let the Right one In", whilst over the Christmas season they are playing "The Three Musketeers".
The theatre is not for profit and after 30 years hard use some of the facilities need updating. Stuart thanked the Rotary Club for making a donation towards their work.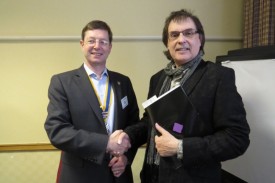 Stuart McGill with Rotary President Jon Wassall
Read more about Playbox
Past Events