A Safeline here in Warwick for victims of sexual abuse    
Neil Henderson from local charity Safeline visited Warwick Rotary Club this week to talk about their work with victims of sexual abuse and rape. With a Motto "Believe in you" they listen to men women and child victims of abuse and start the healing process which may have taken 60 years for people to feel that someone will believe what they say.
Although the charity has been in existence for 20 years, with the number of high profile cases being publicised, many men and women are now contacting the charity to reveal their secrets of childhood abuse.
Safeline offers counselling and support for those affected by the traumas that sexual abuse and rape reveal, and also works actively to prevent abuse occurring. Over 20 years they have helped more than 25,000 people, and from a base in Warwick now offer a national Helpline, on-line support, face to face counselling, support groups and training with children and young adults.
Abuse wrecks lives, and victims may turn to drugs, drink or self abuse to numb their feelings, it affects schooling, moving into employment and establishing relationships. The cost to society is huge. Neil estimated that there are 10,000 people a year waiting for help due to shortage of funding, some of whom may take their own lives.
If you feel that you would like to talk to someone about sexual abuse you can call Safeline on 0808 8005005 between the hours of 8am to 8pm, or look at their website. www.safeline.org.uk
President Jon Wassall presented Neil with a cheque towards their work and thanked them for their unseen work helping to turn victims into survivors.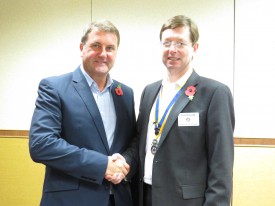 News