Having already welcomed a new Associate Member in his first meeting of the Rotary year, President David Brain was delighted when, only three weeks later he inducted a second person, Graham Robinson, this time as a full member of the club.
Speaking to the members after the event, Graham said that he was delighted to be joining an organisation that played such an active part in the affairs of the town locally, as well as internationally, and he hoped to be an active participant within the team.
The picture shows Graham being introduced to members by President David (right).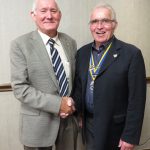 News