Carol Pratt, Fundraiser for Acorns Children's Hospice, came to tell Warwick Rotarians about the charity's vital work caring for children and families across Warwickshire and the West Midlands.
Acorns Children's Hospices provide specialist palliative care for babies, children and young people with life limiting and life threatening conditions, as well as support for their family. The charity helps families cope at every stage of their child's life and beyond, wherever and whenever they need it.
This support is offered in Acorns three hospices, based in Birmingham, Walsall and Worcester, and in the community. The charity's hospices provide a home-from-home environment where children take part in a range of fun and therapeutic activities, from arts and crafts sessions to hydrotherapy. Children visit Acorns for respite, short breaks, end of life and emergency care.
The charity needs £27,000 per day to run its services and relies on donations and fundraising by the community and local businesses for 70% of this amount.
In the past year, Acorns has cared for more than 780 children and 1,220 families, including those who are bereaved.
Rotarian Alan Bailey thanked Carol for her presentation with its moving examples of how Acorns supports children and families, which left her audience very thoughtful.   Dying is hard enough but losing a child is uniquely painful.
President David Brain presented her with a cheque towards their work.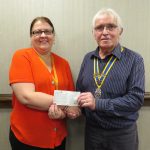 To find out more about how you can support Acorns, visit their website: www.acorns.org.uk/support
News