Colin Sullivan, a Fundraising Volunteer for the Air Ambulance Service recently came to talk to the Rotary Club of Warwick about their work.
Originally known as the Warwickshire and Northants Air Ambulance, they have been in existence since 2003 and are a charity funded by volunteers. In 2011 they came together with the Derbyshire, Leicester and Rutland Service to become the Air Ambulance Service. They have a charity shop in Warwick Market Square, one of over 25 which raises money to keep the service running.
The Air Ambulance Service leases it's familiar yellow and black helicopters, and operates from Baginton, Coventry and East Midlands airports, covering the centre of the country. Last month over 280 missions were flown taking patients to the nearest appropriate hospital to deal with their injuries, at £1,700 a mission, over £6million is needed each year to keep in the air. Each aircraft has a pilot, a doctor, and a paramedic employed by the service with space for just one patient. To date over 32,500 missions have been flown.
In 2013 the Children's Ambulance Service was established to enable critically ill children to be transferred to specialist centres, transferring patients, medical support and parents for life saving treatment. Their helicopters, with a green flash on the tail, have space for 4 to allow parents and equipment to be transported longer distances which may be required for instance to transfer from Birmingham to Great Ormond Street, in London. The Children's service operates nationally from bases in Doncaster and Kidlington, Oxford airports.
Thanking Colin for his presentation Rotarian David Brain said many of us had experience of their rescues and did not realise they had no public funding. President John Hibben presented Colin with a cheque towards their work.
For further information see their websites,  where you can also make a donation.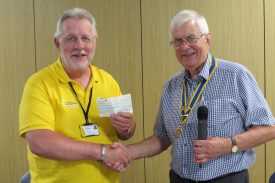 News