It was changeover evening on Wednesday June 29th  for Rotary Club of Warwick when they met to mark the handover of the Presidency from Jon Wassall to incoming President John Taylor.
John Taylor, a retired Police Superintendent, has been an active member of Rotary for 30 years and transferred to the Warwick Club in 2012 when he moved to the area from Lancashire.   He was previously a member of the Rotary Club of Chorley Astley in that county where he had also served as President and as well as his work with both clubs he is also a Trustee of the Rotary Shoebox Scheme, which sends aid to children in deprived areas overseas.
In accepting the chain of office John praised the work of his predecessor, Jon Wassall for the way in which he had led the club over the past twelve months.   His enthusiasm had been infectious in generating a happy atmosphere and a great amount of good work.
He went on to announce that his charities for the year will be The Hyper Insulinism Unit at Great Ormond Street Hospital where his granddaughter Scarlett is treated, and Cancer Research UK. and the club was getting off to a flying start with a collection at Sainsbury on Sunday July 3rd.
The picture shows Jon Wassall (left) handing over the chain of office to John Taylor.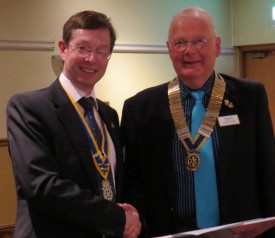 News