Volunteers make bespoke gadgets and adaptations for disabled.
Robin Kenward from national charity 'Remap' told Warwick Rotarians this week about the little-known charity which helps people with disabilities to achieve independence and a better quality of life. Robin who acts as Chairman of the Remap Coventry and Warwickshire Group, is also a Rotarian from Kenilworth and demonstrated our motto of "Service before self".
ReMap has existed for over 50 years and works through local groups in most counties. Remap volunteers use their ingenuity and skills to help people with disabilities achieve independence and enjoyment of life's opportunities. Work is carried out by expert engineers, carpenters, and technicians. Often there is no commercially available equipment to meet individual needs. Remap can design and tailor make equipment for each person, other times existing equipment needs modifying to be useable. Everything is done free of charge to the people helped by the volunteers in their own workshops.
Examples were given of bespoke handles being fitted to taps, adapting trolleys to hold oxygen bottles so an elderly gent could get into his garden, a catch to stop a buggy running away if the epileptic mother was taken ill. Following the acquisition of a 3D printer bespoke handles have been made to enable someone without fingers to use a walking stick, and many other small tools. Steps and ramps make moving about the home safe and enable wheelchair users to take part in sports.
Referrals come mainly from Occupational therapists and hospitals and every year thousands of people of all ages are helped to regain lost skills and achieve new goals.
If you think ReMap can help you, give Robin a call on 07986621522; e-mail covwark.chairman@remapgroups.org.uk or visit their website www.remap.org.uk. Get in touch via the website if you would like to help.
Thanking Robin for his presentation, Rotarian Margaret Morley said how impressed she was by Robin's engineering skills. She had experience of needing to have a shower adapted for use by a disabled person, for many people to have this help provided for free was invaluable. Vice President David Smith presented Robin with a cheque to support their work.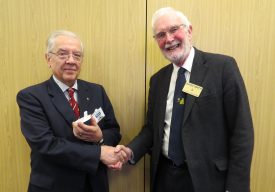 David Smith (right) with Rotarian Robin Kenward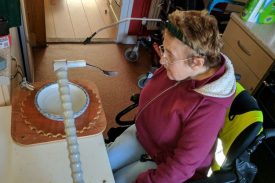 A drinking aid for disabled child to use favourite mug with adapted feeder.
Uncategorized