A fantastic night at Warwick Town Bonfire on Saturday Nov 5th
Record breaking numbers turned out last Saturday for Warwick Town Bonfire at Warwick Racecourse. The forecast was for a clear and cold evening, and outlets in town ran short of tickets during the afternoon. As the gates opened thousands queued to get in and organisers had to delay the start!
A brisk trade was soon underway with sales of hot food and drink, litesticks and punch, and little children enjoying the rides. The Bonfire this year was on land next to the Racing Club which allowed more space for spectators, and on top was the Guy made especially by the youngsters at Newburgh school.
Cllr Chris Cross, Mayor of Warwick accompanied by the Presidents of Warwick Rotary and Warwick Lions, who organised the show, and guests, were escorted by the Town Crier to light the Bonfire, which was soon blazing away. After a short delay starting the Fireworks, the crowds were treated to a spectacular fireworks display set to music
David Shore, Chair of the Bonfire Committee said "we are delighted that Warwick town people turned out for their regular show, and are most grateful for their support. It's been a really great night".
Proceeds are distributed to local charities and good causes by the organising clubs.
The committee would like to acknowledge the support of Warwick Racecourse, Warringtons, Baxi Heating, Bovis Homes, Unipart, Leycester House Care Home, The Tuckery, and Hilton Hotel, as well as all the local retailers who helped with the sale of advance tickets.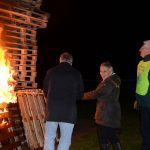 The Mayor of Warwick lights the fire
Pictures courtesy of Gill Fletcher
Past Events