Compton Verney invites Rotary Club to see new exhibitions
Enthusiastic guide Christine Clewley invited the Rotary Club Warwick to come down and see the exhibitions at Compton Verney this year. Christine has been guiding people around the house and galleries for the last 9 years and considers it a privilege to work there. New visitors facilities have been completed and the grounds refurbished using Lottery moneys, so visitors will see some changes.
In 2016 there will be 4 major exhibitions:
"Capability Brown 300" from March until the end of the year, there will be an exhibition on his work in Warwickshire to mark the 300th anniversary of the famous landscape architect Capability Brown.
Marking the 400 anniversary of Shakespeare's death, there will be "Shakespeare in Art: Tempests, Tyrants and Tragedy" from March 19 to June 19 collaborating with the Royal Shakespeare Company using multiple media, paintings, audio and photography to bring the works to life.
This will be followed by "Britain in the 50's", from July to October, and from October to December a unique opportunity to see "Queen Victoria in Paris" showing 44 watercolours from the Queens private collection. There will also be a chance to see "Picasso on Paper" with 70 prints on loan from Dusseldorf, from October to December.
Thanking Christine for her presentation, Rotarian Bill Howard said he was sure that members would be arranging a visit later in the year to see the galleries.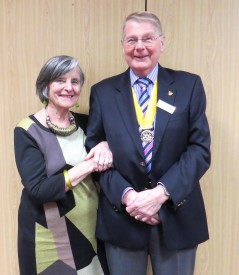 Christine Clewley is pictured with President Elect, John Tayor
Past Events