Two weeks ago Warwick Rotarians planted 5,000 purple crocus bulbs on the bank next to the bus station in Warwick as part of Rotary's worldwide Campaign "End Polio Now". President John Hibben, was helped by Keith Hinton and other members early in the morning and it is hoped the bright flowers will welcome people arriving into Warwick.
World Polio day is on 24th October and marks the progress being made to eradicate this devastating disease which paralyses children. In the 1950's 8,000 people a year in the UK were paralysed by polio, and the discovery of a successful vaccination has removed this scourge from our lives. Across the world in 1988 350,000 children a year still caught Polio, with the resultant impact on not just their own lives but the economy of their countries.
Of the 1 in 200 cases that lead to paralysis, about 5 to 10% will die from the disease, but for every child that is paralysed, another 199 children can silently spread the disease. As long as a single child remains infected with polio, children in all countries are at risk. The purple crocus is the same colour as the finger of an immunised child.
Rotary clubs around the world have worked tirelessly to raise funds to immunise over 2.5 billion children in 122 countries, with local Rotarians going to India to help administer vaccines. The Bill & Melinda Gates Foundation has challenged Rotary to raise money and donates £2 for every £1 raised by Rotary. Country after country has now become Polio Free and it now only remains endemic in Afghanistan and Pakistan, with just 37 cases worldwide in 2016.
The prospect of totalling eradicating the disease is tantalisingly close!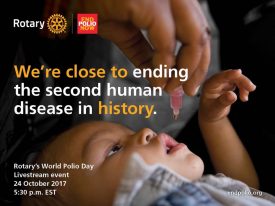 News