Many disabled people find they are isolated and lonely due to the difficulties of getting out and about. Nearly 11 million adults in the UK are living with a disability, most of which were acquired since birth, and have to adjust to the limitations this imposes.
Rachel Chai, Operations Manager of national charity Enrych told Warwick Rotary Club about their mission to support disabled people to live independent lives. Started 30 years ago by Sue Ryder and husband Leonard Cheshire VC they aim to give disabled people more opportunities to enjoy a good quality of life.
The charity focusses on providing "support" matching volunteers with members to pursue an activity or shared interest together, to join activity groups such as swimming groups or arts and crafts groups, to attend social events and trips; In addition, they provide a personal support assistant service helping with everyday activities called Enrych Assist.
"Sarah" felt totally isolated at home as she cannot go out unaided, Enrych recruited a student who has formed a friendship and they go out in the car, walking together and she now has enough confidence to join a choir and has a totally different outlook.
"Trev" in Swindon wanted to start fishing again as part of his recovery plan following a stroke. He was paired up with someone keen to learn, they now fish together and both benefit from the partnership.
Rachel told Rotarians that while they don't currently operate in Warwickshire, there are branches nearby in Oxfordshire and Leicestershire. Leicestershire is also starting a new service called Enrych Connect – an initiative to encourage digital inclusion for disabled people and helps them to get on-line and provides one to one computer training.
Every year Enrych helps over 1,000 people and organises over 270 social events, and many say Enrych has changed their world. Volunteers also tell how rewarding it can be to help people achieve their dreams, this can be as modest as helping someone walk down their own garden or walk across the finish line of Race for Life.
If you feel Enrych could help someone you know or you would like to volunteer to share your own hobby and interests, contact them on http://enrych.org.uk
Rotarian Graham Suggett thanked Rachel for telling us about their work and recalled the passion that the founders had for improving the lives of disabled people and President David Smith presented Rachel with a cheque towards their work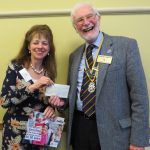 News