Warwick Castle played host to children from Belarus on Monday as 12 sick children from the Chernobyl area explored the best of English castles, courtesy of Merlin Entertainments.
The day started with a welcome from President Jon Wassall on behalf of Rotary Club of Warwick which has arranged these visits for the last 8 years. The Mayor of Warwick, Cllr Mandy Littlejohn accompanied by the Town Crier and Rotary District Governor Paul Jaspal also joined in the fun.
At the castle they were welcomed by a knight in armour who escorted them around the grounds meeting all the medieval characters. The weather was blustery but stayed dry and a great time was enjoyed, clambering up the ramparts, being shown the skills of archery, jousting and the birds of prey as well as the castle dungeons.
The children are brought by the charity Chernobyl Children's Project UK, Solihull branch, from Belarus. 26 years after the nuclear disaster the area is still highly contaminated, affecting the water and local produce. The children visiting this year are all in remission from their cancers and were accompanied by their doctor.
During a month in the UK they are taken to the seaside, into the country, and eat fruit and vegetables free from contamination allowing their immune systems to recover prolonging their lives.
The children were tired but happy after their day out and returned back to their host families in Solihull. Donations can be made to Chernobyl Children's Project UK, www.chernobyl-children.org.uk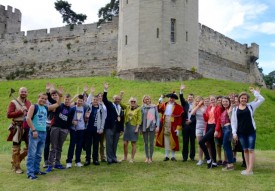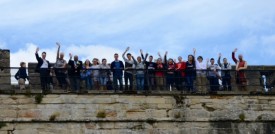 Past Events