"Thank you for the Music", Warwick Schools Midsummer Concert June 23rd
Tuesday evening (23rd) saw St Mary's Collegiate church in Warwick full of the sound of young music as the Warwick Schools' Midsummer concert got under way.
Some 200 children from 7 local schools entertained parents and friends to a varied programme supported by the County Music Service.
The church was packed to hear music ranging from classical strings to African drums, and all proceeds raised will go to support young people's music in Warwick.
The concert got off to a dignified start with Warwick Lower School Strings playing a Sinfonia by Salieri, before youngsters from Emscote School and Budbroke livened things up. Children from Woodloes sang songs with an African theme, before Aylesford School previewed a couple of songs they will be taking to Disneyland Paris later this year.
Westgate, Newburgh and Coten End also contributed to the fun and the audience was captivated by favourites such as Streets of London, Stand by me and a rousing performance of Zadok the Priest .
This annual event organised by Warwick Rotary Club was attended by the Mayor Cllr Mandy Littlejohn, and Cllr Michael Doody Chairman of Warwick District Council. Cllr Littlejohn echoed everyone's thoughts in praising the children and saying "Thank you for the Music"
The concert will be the last organised by Simon Grimshaw of the County Music Service, who was thanked by President Jackie Crampton for his encouragement to the young people of Warwickshire.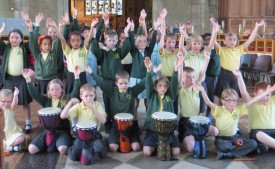 Past Events