Carolyn McDonald, Community Fundraiser in the West Midlands for the Alzheimer's Society, told a meeting of Rotary Club of Warwick last week about the help and support which the society provides for family and friends of people with dementia.
There are estimated to be 850,000 people in the UK with dementia and this is set to rise to 1million by 2021 as 1 in 3 of us over 60 will develop some form. Dementia is brain damage which can happen to anyone and there's currently no cure. It may include memory loss, mood swings or loss of other skills and can depend on the disease at hand. The Alzheimer's Society believes that life doesn't end when dementia begins, and offers support for anyone affected by its many forms.
The society undertakes research into finding a cure and ways of caring; it campaigns to raise awareness; and delivers over 2000 local services across the country. This includes a wide range of services including dementia support workers who offer 121 practical and emotional support, carers information programmes which provide a range of support to individuals and their families. ¬There are now over 1 million "Dementia Friends" who are people who want to learn more about what it is like to live with dementia and turn that understanding into action.
Thanking Carolyn, Rotarian Jackie Crampton said many of us know the worry of looking after an elderly parent who is confused and it is an issue many of us have to wrestle with in later life at the same time as having our own responsibilities. She appreciated the work of the Society in bringing greater awareness and providing support. The picture shows President John Taylor presenting a donation towards their work.
If you are worried or need support call the Alzheimer's Helpline on 0300 222 11 22 or visit https://www.alzheimers.org.uk/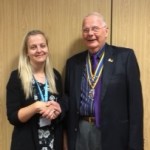 News