The Rotary Club of Warwick held its annual International Understanding Evening at the Hilton Hotel on 30th March with an illustrated presentation on Peru.
Speakers Juany and Peter Murphy from Otra Cosa Network told the club about their work. Originally from Peru, Juany and her English husband Peter started to help local children in northern Peru and have developed a low cost volunteering network providing volunteers to help with literacy and education in shanty towns grown up in this area. Otra Cosa is now a non profit NGO and a UK registered charity which is based in Warwick.
The seaside area of Huanchaco is popular with surfers who enjoy the area adjacent to scenes of desperate poverty. The area has experienced large numbers of people leaving the surrounding jungle and mountainous areas following natural disasters sometimes linked to el nino climate patterns. Migrants have settled in shanty towns with little infrastructure, no sewerage, running water, or access to education.
The Huanchaco Education and Learning Programme, HELP is dedicated to advancing the education possibilities and resources for those living in lower-income communities. The Otra Cosa Network runs a number of projects dedicated to improving literacy for women and children as well as supporting several partner organisations in the area. With assistance local people are able to get work on cruise ships and local hotels, teaching surfing and other support services.
The Otra Cosa Network encourages volunteers to spend periods from 3 months to a year in Peru and provides accommodation, support, and Spanish classes. In 2015 over 200 volunteers worked out there and can be of any age.
For further information see their website: www.otracosa.org.
Pictured here from left to right are Peter Murphy, International Chairman John Hibben, Juany Murphy, with Rotary President Jon Wassall after he had given them a donation towards their work.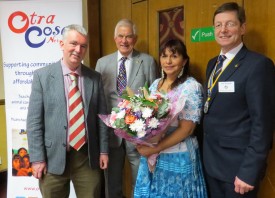 Past Events