Terry Brown joined members of the Rotary Club of Warwick last week for lunch and told them about his role as Chairman of the Warwick Apprenticing Charities.
Now managed as one charity, it has its origins back in the 17th century, when it was just as important to give young people a helping hand. Apprenticeships were then essential to learn your trade, which could take up to 7 years. Five charities were originally established to help support the young to afford lodgings, or the tools of their trade, or to help the poor, and these were brought together in 1930.
Nowadays the charity continues to pursue its original aims by making grants to students undertaking apprenticeships, attending university, or undertaking any other form of training designed to help in the furtherance of their careers.  Help is given to assist in the payment of fees, provision of books, equipment and materials, special clothing and travelling expenses etc.
Applicants must live within the bounds of the town of Warwick, have left school, and be under 25 years of age.  Anyone interested in applying should look at the charity's website www.warwickapprenticingcharities.org.uk and download an application form. Demand outstrips funding and they work closely with other local charities to support young people living within Warwick to get established.
Thanking Terry for his talk, Rotarian Jonathon Wassall observed that charities need more local people to take an interest in continuing this work, which makes such a difference to young lives.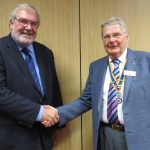 President John Taylor (right) presented Terry Brown with a cheque towards the work.
News