Last week was Huntington's Disease week and Debbie Wall came to tell the Rotary Club of Warwick how this has affected her family.
Huntington's Disease, formerly known as Huntington's Chorea, is a hereditary disease of the central nervous system and tends to onset in middle age. It can have a variety of symptoms including loss of balance and co-ordination, problems with walking, thinking and memory, changes in behaviour being sad or angry. It is hard to diagnose, but is progressive and has no cure although treatments can improve the symptoms.
Debbie was diagnosed 7 years ago and keeps busy working as Events Manager at Leycester House Care Home. She has set up a help group in the Warwick & Leamington area and supports and advises people. Funds are needed to support the clinical trials undertaken in London & Liverpool and Debbie is planning to climb Mount Snowden later this year to raise money for the Huntington's Disease Association. If you would like to know more visit their website www.hda.org.uk. "Hunting for a Cure, with care".
Thanking Debbie for her very personal presentation Rotarian Paul Jaspal said that Debbie demonstrated the Rotary ideal of "Making a Difference" to people's lives, and praised her determination to help others. President John Taylor presented Debbie with a cheque for the Huntington's Disease Association.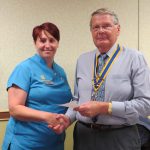 News