David Phillips, "Marathon Man", recently joined the Rotary Club of Warwick for lunch to give an entertaining and often moving talk on his experiences.    An accountant by profession, he is a member of both Pembrokeshire Harriers and Massey Ferguson runners in Coventry.
A local man and former rugby player known throughout the area as 'Taff', he ran his first Marathon in Coventry in 1981, and then found that these were organised around the country, and in fact worldwide. He has run a total of 477 Marathons to date, and seems unlikely to stop when he reaches his target of 500. When he heard someone had done 100, he thought that sounded a great idea, and joined the 100 Marathon Club achieving his goal in the Stratford on Avon Marathon in 1991.
Over the years, he has run in New York and Boston, Cairo and Paris, Malta and Berlin, the only local one he hasn't done yet is the Two Castles Run – come on David! He explained that places are allocated within hours. David is pictured here with President John Taylor and a golden trainer awarded by his Pembroke club when he reached 300 Marathons.
In 1991 he saw a request from the Brain Spine Foundation for runners to help them raise funds and set himself a new goal, 500 Marathons and £100,000 for the charity. Now he is fast approaching this target with £98,000 already raised but it will be another year before he reaches 500, although he is unlikely to stop even then!
The Brain Spine Foundation was set up by neuro surgeon Peter Hamlyn at St Bartholomew's Hospital in London to research and support people with neurological disorders. Boxer Michael Watson famously undertook the London Marathon in 2003 taking 6 days to complete the course, raising £250,000 for the charity.
If you would like to know more about the charity contact their Helpline 0808 808 1000, or their website www.brainandspine.org.uk.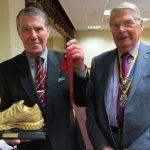 News