Cath Errington Fundraising Manager for Heart of England Mencap recently came to talk to the Rotary Club of Warwick.
Heart of England Mencap has been based in Stratford since 1974 and now has 210 employees providing a wide range of services to help people with learning disabilities to lead fulfilling lives. This includes providing supported living, residential care, respite breaks, Outreach, and daytime activities. Last year some 172 people in South Warwickshire benefitted from 162,975 hours of care, which they try to tailor to meet individual requirements.
In Warwick Mencap runs a Pathway day centre in Coten End where 15 people meet twice a week to enjoy sports, arts and drama together. Mencap are also keen to encourage participants to learn skills and obtain employment, and wants to develop relationships with local companies to secure sponsorship and placements.
Cath is pioneering the idea of an Accessible Book Club which provides specially produced "Books beyond Words" where the pictures tell a variety of stories. A club has already been launched in Stratford and they are looking for a quiet location in Warwick, as well as contributions to buy the books and IPad application.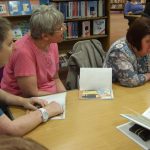 An accessible Book Club
Thanking Cath for her presentation Rotarian David Smith expressed his admiration for the patience and skills shown by her team in helping people discover their ABILITIES, and expressed the hope that Rotary could help get their Book Club up and running. President John Taylor then presented Cath with a contribution towards their work.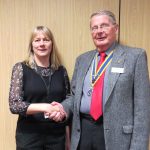 Heart of England Mencap has a website  where you can find out more about their projects and how you can volunteer.  Visit www.heartofenglandmencap.org.uk