Rotary Club of Warwick presented its annual Meritorious Service Award to Derek Fletcher at their meeting on Wednesday January 13th in recognition of his 36 years carrying the ceremonial mace of Warwick.
Derek was "volunteered" for the post by his late wife Eileen and initially was assistant mace bearer carrying the ceremonial mace in front of the Mayor of Warwick at all official events, rain or shine. Having served the town and all its Mayors since 1979, Derek retired from the post recently.
In recognition of his service to Warwick he has been made an Honorary member of Court Leet. Derek is also Chairman of the Royal Naval Association in Warwick having served in the Navy in Korea, Malaya and the Far East; he worked at Pottertons for 30 years, and was a past volunteer at the Iris Lees Day centre.
President Jon Wassall presented Derek with his award which includes a cheque for a charity of his choice – and expressed admiration for his service to the community of Warwick.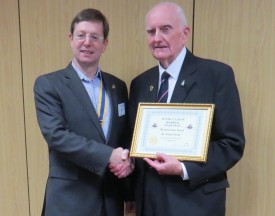 News