The Rotary Club of Warwick presented its annual Meritorious Service Award to Margaret Kite BEM at their meeting on Wednesday January 14th, in recognition of her tireless fundraising for charity.
Rotarian Jackie Crampton introduced Margaret to the club, most of whom recognised her immediately. Margaret has been collecting at our local stores for many years and was awarded the British Empire Medal (BEM) in the 2016 Honours list. Usually she is collecting for Myton Hospice, and staff from the Hospice accompanied her to the lunch, but she also collects for Marie Curie, Teenage Cancer and others. Margaret is a familiar face at Sainsbury's, Tesco's, Morrisons, and Marks and Spencer's, in Leamington, Warwick and Kenilworth.
Margaret is now 87 and her diary is full of 3 or 4 dates every week collecting, she does a full day from 9 to 5 without a break and says she enjoys every minute of it, getting to meet so many people. Margaret collected £6,700 at Sainsbury's last year for the Royal British Legion Poppy appeal over a 12 day stint.
Louise Careless from Myton Hospice said that over 93 collecting dates for Myton Hospices last year Margaret raised £25,000 for them alone. Her contribution to them over the years has been amazing and this year she has even been equipped with a card reader! On her last birthday Myton gave her a book of photos of her work over the year, and in association with Guide Dogs for the Blind a dog called Kite is now in training.
President David Brain expressed admiration for her tireless work raising hundreds of thousands of pounds for good causes and presented Margaret with a framed certificate and two cheques amounting to £200 which she will divide between Myton Hospice and Marie Curie.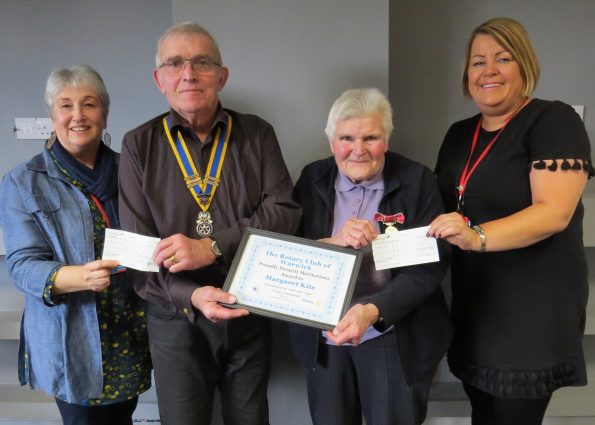 David Brain & Margaret Kite, BEM, (centre) with Anita Burrows and Louise Careless from Myton Hospice
News