One of the first duties of the new President of Warwick Rotary Club, David Brain, was to hand out illustrated dictionaries to all Year 4 children in 7 Warwick primary schools as the summer term came to an end.
David Brain said "Rotary has been giving out children's dictionaries for a number of years, so eventually every child will get one. They are so thrilled to have a book of their own and we always get letters of thanks from the children"
David is pictured here with some of the children at Newburgh School, who were immediately engrossed in finding out some weird and wonderful facts about sabre-toothed tigers, dinosaurs and much more.
Over 750,000 school children in the UK and overseas have received a Rotarian donated dictionary through the Dictionary4life project over 12 years to assist their literacy and stimulate interest in "old fashioned" books.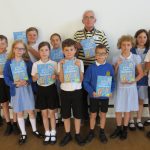 News