Warwick Rotary Club supports alternative learning programme for young people.
With a matched grant from the West Midlands Rotary District (1060) Warwick Rotary Club has purchased a number of computers to help local organization "Positive About Young People" (PAYP) to develop their on-line distance learning programme.
PAYP is based on the Nelson Lane Industrial Estate, Warwick, where it offers alternative education provision to young people excluded from school or at risk of being excluded.
Members of the Rotary Club believe that the type of alternative programme delivered by PAYP will offer that second chance to young people who often fail at school and that these young people are well worth investing in. PAYP complements courses provided by schools on such subjects as Mathematics, English, Science and Computing, as well as other subjects which provide young people with transferable skills suitable for the world of work.
Some young people who may fail at school can succeed with the support of staff from PAYP. Matthew, a Warwick young man, has recently achieved sufficient grades through the online programme to proceed to a possible apprenticeship in Motor Vehicle Maintenance. Case studies like this and many others illustrate that with resources from such organizations as Rotary and supportive, caring staff, young people once written off as NEET ( Not in Education , Employment or Training ) can go on to achieve great things and a better future.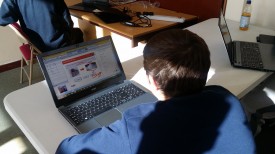 Further info:
Catherine Goulding-Huckle –PAYP Centre manager – 024 7509 0096
www.positiveaboutyoungpeople.co.uk
News