The Rotary Club of Warwick held its annual Presidents lunch on Sunday May 31st at the Glebe Hotel, Barford. President Jackie Crampton is approaching the end of her year of office at the end of July and it was a fitting finale.
Rotarians, guests and friends enjoyed a summer menu, whilst Tom Lindsay provided a swing with musical accompaniment on keyboard. Former Mayor Moira-Ann Grainger and Chris White MP joined guests as well as Helen Rossiter President of Inner Wheel and Neil Chisholm, President of Warwick Lions.
Jackie told Rotarians how much she had enjoyed her year, as the Club's 50th President, and joining in so many civic events in Warwick. The club organises the Schools Summer Concert, Thai Festival, and Pancake races, and with the Lions, the Town Bonfire and Carols at the Castle, and is always looking for people to lend a hand.
During the year the club has raised funds for Jackie's Presidents charities of Cancer Research UK and Warwick Citizens Advice Bureau, as well as making donations to a range of local charities, and sent 2 Shelterboxes to Nepal.   She has represented the club extremely well during her year in office and has been a first class President.
Here Jackie is presenting flowers to Helen Rossiter from Warwick Inner Wheel.
She will be succeeded on June 24th by Jon Wassall.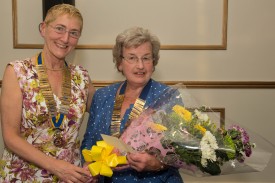 News