It is with great sadness that we announce the death of Ray Francis, at the age of 96, a keen member of our club for 34 years until his retirement from Rotary in 2018.
A 'Brummie' by birth, and very proud of it, he was always smartly turned out, and he was an excellent raconteur who was extremely good company in any gathering. His sprightly appearance probably stemmed from his time in the RAF during the second world war, where he served as a Flight Engineer with 622 squadron, based in Lincolnshire and at Mildenhall in Suffolk, where he flew in Lancasters for Bomber Command from January to August in 1944. During this time he flew in 30 operations, including the devastating raids over Nuremburg in March of that year, which saw the loss of a great number of RAF personnel, and he also flew over the D.Day beaches of Normandy in June of the same year. Much of these experiences are recalled in the book The Red Line, written by John Nichol, in which Ray is quoted several times, describing his experiences.
Returning to civilian life after the war he became very successful in the export packing business and was married for over 70 years to his childhood sweetheart, Brenda, to whom he was devoted, and who survives him.
In his later years it was with great pride and humility that Ray, at the age of 89, attended the unveiling of the Bomber Command memorial in London – it meant so much to him as he had lost so many friends and colleagues during the war.
The picture shows Ray, with his wife Brenda, when he attended the Club President's lunch in 2015.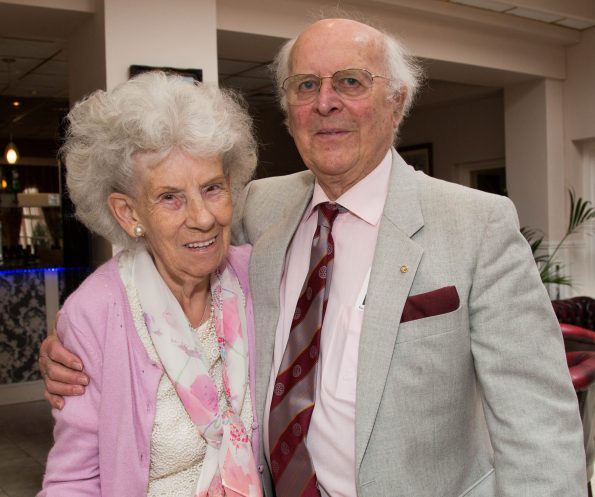 News