Kidney donor Mo Sutherland came to club recently to give a most interesting, and often amusing, talk about the experience of giving a kidney to a friend who was waiting on a very long transplant list.
Both she, and recipient Michael Suffield, looked very well, and Mo had no hesitation in asking members to consider helping others, at the very least by registering as an Organ Donor.   On behalf of the club President Jon passed her a cheque for the Kidney Transplant unit at University Hospital, Coventry.
Mo is the wife of a member of the Warwick Rotary Club, Graham Sutherland, and shortly after she donated her kidney she was awarded a Rotary Paul Harris Fellowship in recognition of her selfless act within the community of Warwick, and subsequently she has been made an Honorary Member of the club.
The picture below shows President Jon Wassall presenting the cheque to Mo, watched by Michael Suffield.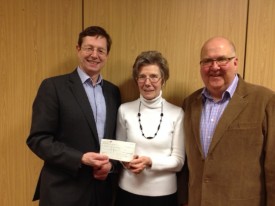 Past Events