In the past year Warwick Rotary, Warwick Community First Responders and local charity Evelyns Gift, have collaborated on a range of projects, and taught vital life-saving skills to over 4,000 residents. Nick Shacklock, CFR's Chairman updated Rotarians this week.
First Responders are volunteers trained and mobilised by West Midlands Ambulance Service who attend 999 calls and aim to keep patients alive and as comfortable as possible until a Service ambulance arrives. Nick reported that in the last 12 months they had attended over 300 999 calls. Most often this has been the elderly falling at home, patients with breathing difficulties or chest pain, but they have attended a wide range of other incidents including cardiac arrests, hangings and road traffic collisions.
During the year the Warwick CFR's re-branded themselves as a new Charity "Warwickshire Hearts", incorporating CFRs from a similar scheme in Stratford and taking on a formal objective to train as many as possible in South Warwickshire in CPR and the use of a Defibrillator (AED). Operational responders have increased from 8 to 13, 4 additional trainees are nearly qualified, and more recruits are awaiting training. Increasingly high levels of training are required to meet the operational need, and it has been rewarding that several responders have gone on to train as Paramedics or to undertake other clinical roles in the Ambulance Service.
In 2017 they acquired a car to help them attend incidents (mainly in the urban areas) quickly, but the additional recruits in rural villages need equipping as well.
In addition to their primary role, Warwickshire Hearts has worked closely with another local Charity Evelyns Gift, training people in local schools and community organisations in CPR lifesaving skills and using defibrillators. On Restart a Heart day last October, over 1,200 people were trained. Rotarian Graham Suggett and two local Doctors have joined as trainers to help meet the demand.
Working together with Warwickshire Hearts and Evelyn's Gift, Rotary has applied for District Grants to provide face shields to CPR trainees, facilitated the provision of additional community defibrillators, helped install a defibrillator at Round Oak school, and the CFR's supported Rotary's annual Stroke Awareness event.
If you are interested in being trained in CPR and use of a defibrillator, joining the training team, or are interested in becoming a 999 Responder contact Warwickshire Hearts via the 'Contact Us' tab on the website www.warwickshirehearts.org. Donations are also needed to support their work both in responding to 999 calls (which receives no public funding) and in delivering CPR training. Courses are offered free of charge.
Thanking Nick for his interesting presentation Rotarian Margaret Morley said how impressed she was by his passion for helping others. President John Hibben presented Nick with a cheque towards their work.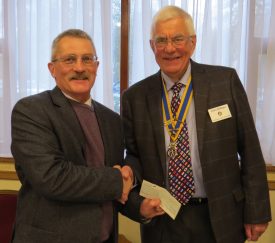 Uncategorized