Warwick Rotary Club teamed up with local charity Education for Health to host free blood pressure tests in Warwick Market Place last Saturday in a national event set up by the Stroke Association and Rotary clubs across the UK.
Cllr Christine Cross, deputy Mayor was first to be checked by Beverley Bostock-Cox from Education for Health, and throughout the day the team was kept busy as shoppers took 5 minutes to get checked, and be advised on keeping their Blood Pressure under control and reducing risk of stroke.
A stroke is a brain attack which happens when the blood supply to the brain is cut off, caused by a clot or bleeding in the brain. Stroke occurs approximately 152,000 times a year in the UK and it is one of the largest causes of disability. There are over 1.2 million stroke survivors living in the UK.
Estimates suggest there could be 6.8 million people with undiagnosed high blood pressure in the UK who are at risk of having a stroke. Many people have high blood pressure without realising it because it often has no symptoms.
The Stroke Association advises people to have a regular blood pressure test, which can be done at your local chemist. Prevention is better than a cure and if identified early a high blood pressure can be easily treated.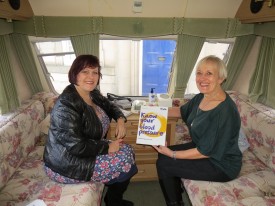 Cllr Mrs Christine Cross with Beverley Bostock- Cox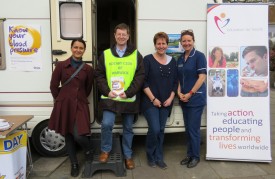 Rotary President Jon Wassall with Education for Health team
Past Events