Rotarians across Warwickshire have been quick to respond this week to the unfolding disaster in Nepal.
Funds for at least one Shelterbox were immediately allocated by the Rotary Club of Warwick, whilst clubs in Nuneaton where the Ghurkas are based, have already raised over £2,000. An appeal to raise money for more aid is underway.
Shelterbox is a partner charity to Rotary International and is ready to deliver disaster aid anywhere in the world from forward depots already stocked. Two teams have arrived in Nepal and a delivery of 100 boxes has already landed.
A Shelterbox costs £590 and contains a tent for 10 people, cooking equipment, blankets, tool kit, solar lamps, and water survival equipment. Aquabox costing £125 provides a family water unit and survival bags.
President of Warwick Rotary Jackie Crampton said anyone wanting to donate can send directly via Shelterbox website www.shelterbox.org or to the local club "Rotary Club of Warwick" c/o 203 Myton Road, Warwick CV34 6QD.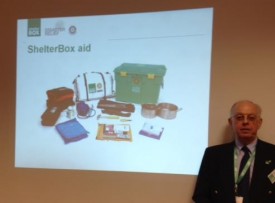 News