President Jon Wassall presented David Oliver of the 7th Warwick (Woodloes) Scout group with a cheque for £1,500 funded by the Rotary Club of Warwick.
The scouts approached the club for help so they could buy a trailer to take their kit away for camps and sporting activities. In return they will be helping the club at the forthcoming Thai festival down at Warwick racecourse.
The 7th Warwick group is based at Twycross Walk, Woodloes Park, Warwick with boys and girls aged 6-18 years enjoying an adventure filled programme, making friends and learning new skills.
If you are interested in joining contact them via their website www.7thwarwickscoutgroup.org.uk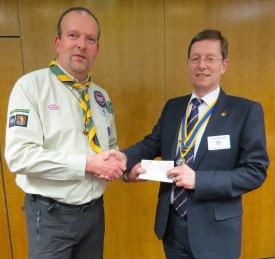 Photo shows Jon Wassall, President of Rotary Club of Warwick and David Oliver from 7th Warwick (Woodloes) Scouts.
News