Working alongside Westgate Primary School, Warwick Rotary Club were delighted to present the school with a Peace Pole for their new Peace Garden. Allowing for social distancing a small group of children unveiled the pole in the morning and Rotary President David Brain came to see it later in the afternoon.
The Year 6 Children have spent many hours in clearing an overgrown area within their school and with support from Hill Close Gardens are going to create an area where the children will be able to just enjoy the joys of nature and relax in an atmosphere of quiet reflection. Headmaster Mr Watson commented "We are going to plant lots of flowers and shrubs which will provide a quiet area for the children, which is so important, especially today. The Peace Pole is a wonderful addition to our garden, and we are very grateful to Warwick Rotary Club for providing us with one."
Parent Mrs Camille Sethi, who is a Rotarian, instigated the planting of the pole at the school.
Peace Poles convey a message of encouraging all to work together to create a caring society at home and abroad. This message is conveyed on the sides of the pole in eight languages to represent the different nationalities of the children in the school. Braille is also included. Poems written by the children, dedicated to peace especially for the occasion were read out. Warwick Rotary Club would like to thank CrazynBold of Warwick for supplying the plaque which will be placed on the wall next to the pole.
The Club is also working with Newburgh and Aylesford Primary Schools both of which are planning to plant Poles in their Peace Gardens. As part of their Peace Education programme, through Rotary Stars, the Club also recognises children nominated by their school, for acts of kindness.
Promoting Peace Education is very much part of the school curriculum, teachers have all commented that young people today need opportunities to think about dealing with Conflict without resorting to violence and with the increase in knife crime this is even more important. Covid has not helped, and with more young people suffering from Mental Health problems Rotarian Margaret Morley stated, "As an organisation Rotary is totally committed to working with schools in any way they feel necessary to support their Peace Education Curriculum." If any schools are interested in finding out more please contact Rotarian Margaret Morley email morleyam@aol.com.
Peace Poles represent a celebration of Peace and Collaboration between different countries too.
Warwick Rotary Club are also working with the Warwick Town Council to construct a Wooden Peace Pole for Pageant Gardens to include languages from the towns with which Warwick are twinned.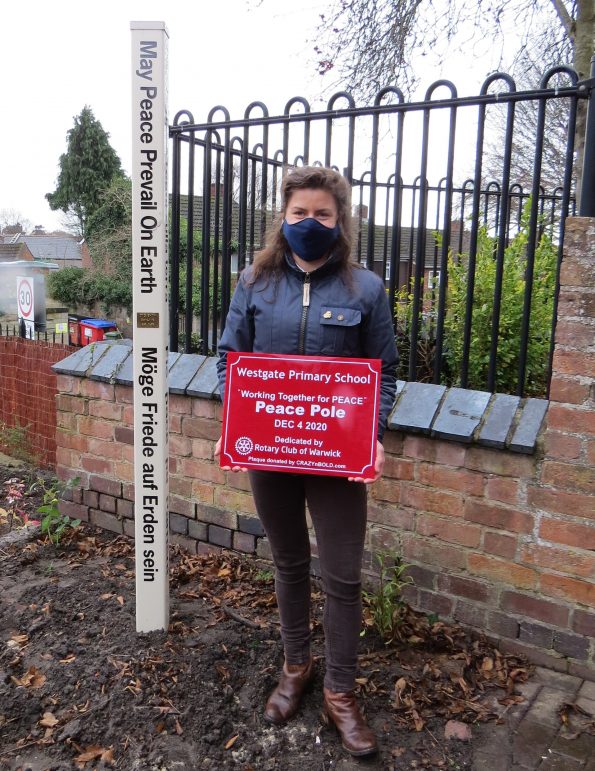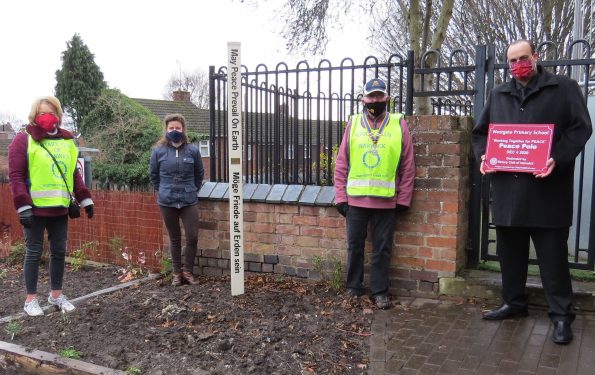 For a picture of pupils at the planting, please contact the school – Tel 01926 492015 e-mail head2322@we-learn.com,
News