Hamlingtons of Warwick donate jewellery prize to raffle winner.
This week the winner of the main raffle prize at the Thai festival returned to claim his prize, £1,000 worth of jewellery from Hamlington's.
He had travelled all the way from Shrewsbury and is met here by Jon Wassall, President of the Rotary Club, organisers of the Thai festival and by Phillip from Hamlington's Fine Jewellery based in Market Place
.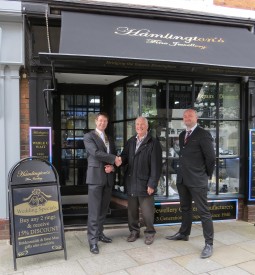 News