Paul Thompson, a Fundraising Volunteer for Springfield Mind came to talk to the Rotary Club of Warwick last week.
Springfield Mind was founded in 1986 and is a local charity affiliated to National Mind. Their aim is to promote well-being and prevent mental health problems in Warwickshire and Worcestershire. Apparently one in four of us will suffer poor mental health at some time, modern life imposes stresses that many can't handle, and which often the NHS is ill-equipped to handle. Loneliness and isolation, family breakdown, and peer pressure on social media all contribute to a "bucket of stress" which can overflow. Common issues are work related stress, feelings of depression, suicide, and dementia.
With waiting lists measured in years people are helped by having someone to talk to. Springfield Mind has volunteers who run hubs in Warwick, Stratford and Leamington where people can meet and learn coping skills, with one to one support. Some GP's have introduced a mental health advisor who can provide active monitoring avoiding medication. This encourages people to connect with each other, be active, take notice of simple pleasures, to keep learning and to give time and company to others.
91 million working days are lost each year to mental illness, costing a fortune.    75% of mental problems excluding dementia start before age 18, and many get no treatment at all. Causes are varied, but sufferers need someone to help them at the earliest stage. If you know anyone who needs support, please call or e-mail Springfield Mind on 01789 298615, – enquiries@springfieldmind.org.uk. or visit the web site.    Volunteers are always needed and helping others can improve your own mental health.
Thanking Paul for his presentation Rotarian Laurie Day said that many of us had family members who had experienced depression, or suffered from stress, and he wished them well with their work.   President John Hibben presented Paul with a cheque.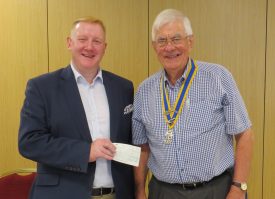 News