Organisers of the Rotary Midsummer Schools Concert, held on June 21st were left short after a sneak thief ran off with some of the ticket money.
Usually the event raises about £1,600 which the Rotary Club of Warwick allocates to local schools to buy instruments or help with children's tuition, but organisers reckoned that about £250 was taken.
However when Sarah Wrist the Community Champion at Tesco, Warwick, heard about the theft she asked her colleagues if they could all give a £1 to help "make up" the money.
The kind hearted workers generously raised a total of £316.
Past President Jon Wassall was delighted to meet them and to receive the moneys from the Manager Jim Whiteland and staff at Tesco, Warwick.   Jon said he was touched to think that people could be so kind and the Rotary Club will ensure that the money goes to help children in local schools develop their musical potential.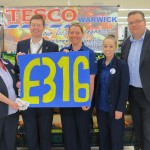 From left to right: Sarah Wrist, Jon Wassall,
Emma Sawyer, Ruth, and Jim Whiteland
News