Jane Hirons of the Dogs Trust had an interested audience this week, which included Guide Dog Kes, when she spoke to the Rotary Club of Warwick.
Jane is a fundraiser based at the Honiley homing centre where she has worked for 22 years. The centre there opened in 1973 and was rebuilt in 2004. It can accommodate up to 180 dogs, this includes dogs which cannot be kept at home due to changes in circumstances, and dogs brought in as strays. Most of these are eventually re-homed, and the Dogs Trust excellent website showing available dogs can lead to queues on a Saturday morning.
The Dogs Trust, motto "No Healthy Dog destroyed", has been in existence since 1891 and celebrates 125 years this year. It now has 21 homing centres which handled 17,000 dogs in 2015. The centre at Honiley costs £500,000 a year to run, and has to raise the money through members, legacies and donations.
If you are interested in their work look at their website www.dogstrust.org.uk  and consider helping walk the dogs at Honiley. One way to get tech-loving children off the console is to get a dog, and make memories having fun with mans best friend!
Thanking Jane for her talk, Rotarian Ian Jones responded for the many dog owners and dog lovers in the room, including his Guide dog Kes who has become one of the family. President Jon Wassall presented Jane with a cheque towards their work.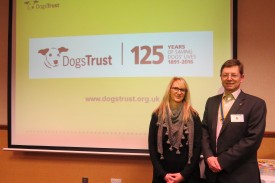 Past Events