Warwick Rotary was well attended on Wednesday evening to hear about the evasion and escape of Tom Maxwell who made it home to re-join his squadron after baling out of a Lancaster bomber over France in 1944, aged just 19. Tom Maxwell, DFC., Legion D'Honneur, passed away in March this year aged 94.
Rotarians from several local clubs were joined by members of the Royal British Legion to hear Tom's son Adrian talk about his fathers wartime exploits. Adrian was surprised to find Rusty Waughman from Kenilworth in the audience, also a Lancaster pilot with 101 Squadron Special Operations during 1944, aged 21. Rusty took the microphone with confidence after hearing from Adrian and provided first-hand insight into the battles fought in the skies 75 years ago.
Tom Maxwell was the rear tail gunner in a Lancaster returning from his 6th mission, a raid over Stuttgart in March 1944, when his plane was hit by shells and caught fire. Tom managed to bale out and parachuted to the ground in northern France. He found a local farm where he was fortunate to be taken in and hidden for a couple of weeks. Eventually Tom was taken south using a resistance escape route, passing through occupied Paris and Toulouse, and then guided over the Pyrenees to Spain, where a plane brought him home from Gibraltar.
Tom was awarded an immediate DFC upon his return and returned to active duties, completing another 26 missions out of a sense of duty to lost comrades. Of the 125,000 bomber command aircrew some 55,573 perished during the war, so both Tom and Rusty were fortunate to survive. Tom re-joined the RAF in 1952 to work in Air Traffic Control, retiring in 1978 and worked for 10 years with the Sultan of Oman's Air Force. In 2018 Tom was awarded the Legion d'Honneur
Club President David Smith told Adrian that until recently Ray Francis also a Flight Engineer with 622 Squadron had been a club member. Now aged 95 he has retired from the club and lives locally. All three had attended the opening of the memorial to Bomber Command opened in 2012 in Green Park which provides a permanent record of the young men who made the ultimate sacrifice.
Thanking Adrian for his talk David Smith said we had all been fascinated to hear of his father's escape, and the return visits he had made to meet his rescuers in later years. David gave Adrian a donation for the RAF Benevolent Fund.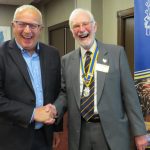 News