It is with great sadness that we learn of the demise of Warwick Inner Wheel Club.
Starting in April 1969, it received it's Charter on 28th October in the same year, when Christine McBeath received her badge as the first President from her husband Ian – the President of Warwick Rotary Club – at a formal dinner at the Lord Leycester Hotel.   There were about 20 members in the club at that stage.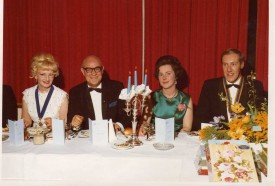 Christine, 2nd from right, with Ian on her left
Since then the club has run continuously, meeting once a month for an evening meal, and running numerous events, as well as supporting Warwick Rotary Club in many of it's activities.   It has financially helped in excess of 40 charities  and it is estimated that it has raised over £100,000.
Over the years the membership has varied between 20 and 40, and four of the members have over 40 years service.
The club held the final meeting on Wednesday 22nd June before returning to Jon Wassall, President of the Rotary Club,  the gifts given to Inner Wheel at their foundation.   In accepting these Jon thanked the club most sincerely for their fantastic support of Warwick Rotary Club over the years, which had been invaluable, and urged their members to maintain contact with Rotary wherever and whenever possible.
The picture below shows those members attending the final meeting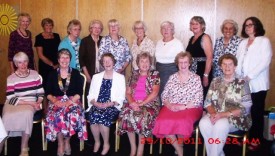 Back row (L to R)
Joan Wimperis, Maureen Evans, Christine McBeath (Secretary), Sheila Joyner, Diana Wild, Margaret Jones, Margaret Howard, Denise Godfrey, Maureen Flint, Patience Ifill
Front Row
Ann Blight & Janet Warren (Joint Presidents), Joyce Fuller, Helen Rossiter, Anne Curtis, Mary Ashley
Unable to be present:
Elaine Bethell, Norma Hibben, Mary Jones, Pat Sweet & Dorothy Wilkinson.
News