Warwick Mayor Cllr Terry Morris has put the first card on the Christmas Tree in Warwick Square accompanied by Rotary President David Brain to start their popular Lights of Love campaign. The cards will stay on the tree until the New Year.
Lights of Love organised by Warwick Rotary Club, in partnership with the Town Council raises money for the Mayors charities and Myton Hospices and this year the Mayor has pledged that all moneys raised will go to Myton Hospice.
If you would like to place a card on the tree to remember those you have loved please complete the coupon on this page. During lockdown these can be returned to Warwick Visitor Centre in Castle street's letterbox, or Torreys or the Post Office. After Dec 2nd Torreys and Claridges should be open.
Staff are working behind closed doors so you can call them on 01926 492212 and they will take all the details.
This year when so many of us have either lost loved ones to Covid, or are unable to visit them, it is comforting to know that they have not been forgotten. The campaign usually starts with the lighting of the tree at the Victorian evening which has been cancelled due to Covid restrictions on crowds, as well as the carol service of dedication. Lights will go on across Warwick on Friday 27th November.
Proceeds this year will go entirely to Myton Hospice. Names of those remembered on the tree will be shown next to the tree, and on the Rotary website www.warwickrotary.org.uk. Thanks to Barn Close Nurseries for donating the tree.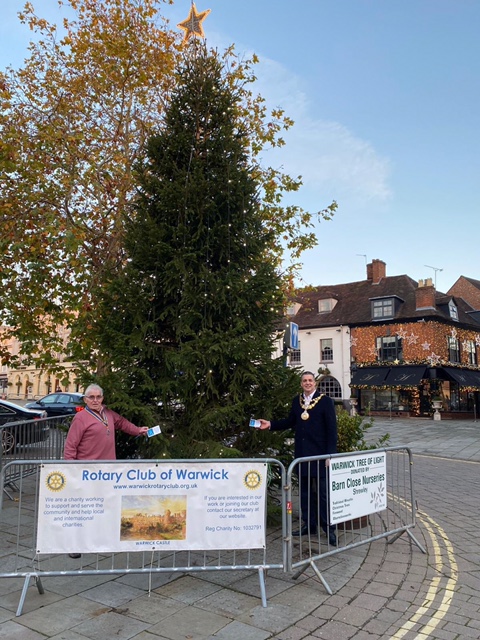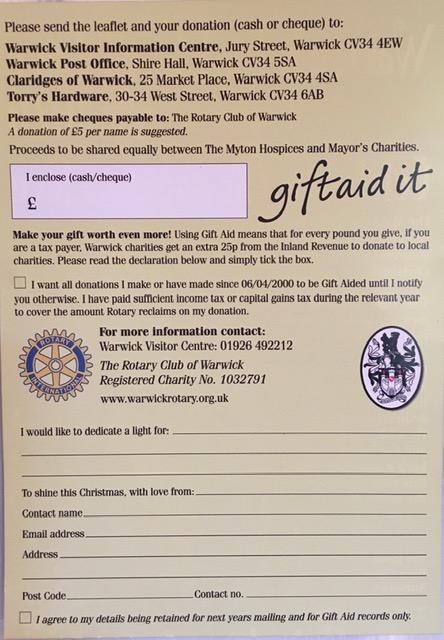 News