Will Atreed is a local boy from Chase Meadow, but he is going places! Will is a keen Go-Karter competing at National level and last week came to tell the Rotary Club of Warwick how he is getting on after their donation of £500.
When Rotarians heard that Will would be competing in the 2017 Super One British Karting Championship they were pleased to help kit him out. The Karts are close to the ground and whizz round at up to 60mph, for this Will needed a fireproof suit and helmet. After the meeting Rotarians were able to go outside to see his Go-Kart and hear about some of his spills and tumbles.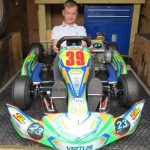 Currently Will is racing in the Honda cadets under 13 League where he ranks 32 out of 45 but he is hoping to end the 7 race season in the top 20 in the country. Like his hero Lewis Hamilton who started his career in Go-Karting, he is keen to progress into Juniors next year, and the sky is the limit. To compete requires travelling to competitions all over the country and practising at weekends, all requiring entry fees and maintenance.
Will has set up a Just Giving page if you are interested in supporting him and you can monitor his progress on Facebook at WillAtreedracing/. The Super One British Karting Championship is televised on Motors TV and YouTube, so you can watch Will in action.