Pancakes go flying for traditional dash
Lunchtime on Tuesday 9th February saw Warwick Market Place full to bursting with children and local people competing in the traditional pancake races organised by the Rotary Club of Warwick.
Storm Imogen moved away just in time and thankfully the sun came out.    First to race was the Mayors team, with Mandy Littlejohn, Mayor of Warwick wearing a tutu and wellingtons, beating a team from Warwick Court Leet.   However a team from Sponsors Tesco finally beat all comers including teams from The Globe, Martin Carty Services, and Batter Run Warwick to take the accolades.
The Mayor then set off 25 teams from local primary schools, running under names such as "Westgate Whizzers" and "Coten End Diamonds". They were loudly cheered on by over 200 children and a crowd of parents and passers by.
Local businesses joined in with Tesco providing the prizes and cream eggs for all the children,  with The Globe restaurant supplying hot pancakes and Thomas Lloyd serving coffee to keep the crowds warm.
The Mayor Cllr Mandy Littlejohn, accompanied by Sarah Wrist, Community co-ordinator from Tesco, and Jon Wassall President of Rotary Club of Warwick presented the prizes to year 2 Infants Emscote, and to year 6 Juniors, Westgate Weavers.
Rotary organiser Jackie Crampton said "this is a lovely way to keep a tradition alive.   It is one of the events we arrange for the local community. We had a full turnout of club members and were delighted that Peter Davey, National President of Rotary GB&I was able to drop by and watch the races. "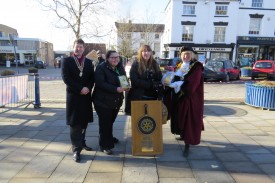 For a full pictorial record of the event provided by Gillian Fletcher please click here
Past Events