February 11th saw St Nicholas Church in Warwick host the annual "Youth Speaks" competition organised by the Rotary Clubs of Warwick, Warwick Avon, and Southam 2000 to give local young people a chance to demonstrate their public speaking skills.
This year some 27 young people competed in teams from Myton (2), Warwick (2), Kings High (1), Aylesford (1) Kingsley (1) schools, and Princethorpe College (2). Teams competed in 2 classes; – Intermediates (11 -13) and Seniors (14 -17), with prizes going to the winning team, and an opportunity to compete in the West Midlands competition, and in the past some Warwick teams have even reached the National Finals.
Each team of three members had 12 minutes to present the case for a topic of their choosing which ranged from "Social media – an essential right?" to "The High Street is not sexist"
This annual event gives young people a chance to voice their opinions on topics they feel strongly about and demands significant research, knowledge and the confidence to present arguments clearly and concisely.
One of the judges, Alan Bailey said "It takes self confidence to put yourself on a platform at 13 and present a case to an audience of total strangers, and all those who performed can be proud of the progress they made and the way they had their listeners engrossed. Congratulations are due to those young people who participated and their teachers who cajoled and supported them through the preparation process".
The contestants were judged by an experienced panel well steeped in the mystical art of public speaking. The event was attended by the President of the Rotary club of Warwick, Rotary District Governor Paul Jaspal, as well as Warwick Mayor Cllr Mandy Littlejohn, parents and colleagues.
The Intermediate class was won by a team from Warwick school which discussed  "The Advantages of single sex education ". They are shown here with District Governor Paul Jaspal.
The Senior class was won by a team from Princethorpe College which discussed "Is religion an outdated concept?" They are shown receiving their awards from Warwick Mayor Cllr Mandy Littlejohn and organiser Roy Glassborow. All winners were also given Book Tokens from Warwick Books which supported the event.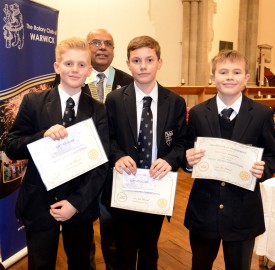 Intermediate winners from Warwick School with District Governor Paul Jaspal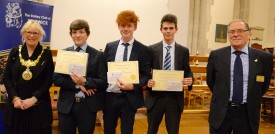 Senior winners from Princethorpe College with Warwick Mayor, Cllr Mandy Littlejohn & organiser Roy Glassborow
A full range of pictures can be seen by visiting.
If you have problems go to
https://www.icloud.com/sharedalbum/#B065idkMwf3Pqv
Photographs supplied by Gillian Fletcher
Past Events