When Marie O'Riley took her daughters to see the Clipper Race yachts at Liverpool dock in 2017, it was Marie who thought "I'd like to do that". Now aged 54 she has booked her place on the prestigious Clipper 2019-20 Round the World Yacht Race, first established by Sir Robin Knox-Johnston in 1996, and will join the crew of Dare to Lead in New York in June.
Marie, from Leamington, had never sailed before and has been training for the last two years in all aspects of racing a 70 foot racing yacht – including the catering, helm, rigging, navigation, and had to conquer her fears to climb the mast! All participants must be able to undertake any of the tasks on board, with crew split into two watches, racing around the clock, day and night.
The Clipper Race is a race without equal; one of the biggest challenges of the natural world and an endurance test like no other. This twelfth edition of the race started in London on 1st September 2019. Crewed by amateurs (many like Marie have never sailed before) the eleven teams each have a professional Skipper and First Mate. Nearly half of the twenty crew on each team are sailing 40,000 miles around the world while the rest join for one or two legs. Marie is joining Dare To Lead in New York in June for Leg 8: The Atlantic Homecoming Leg. With stopovers in Bermuda and Ireland the race finishes in London on 8th August.
Currently lying joint 8th in a field of eleven, Dare to Lead is raising money for "UNICEF – For every child in danger" the Charity partner for the race, with a target of £33,000. Marie's personal target is £1,500 of that.
Thanking Marie for her presentation Rotarian Graham Suggett said that although a coastal sailor in his younger days he was in awe of the challenge she was facing and wished her well in the high seas. President David Brain presented Marie with a cheque to help meet her target and Rotarians spontaneously topped it up.
You can follow progress of the race on www.clipperroundtheworld.com, Donate to UNICEF at https://www.justgiving.com/fundraising/marie-o or help with Marie's race fund on www.gofundme.com/f/maries-clipper-race-fund, and follow her blog on www.plot2yacht.me. She will return next year to tell us about her experiences.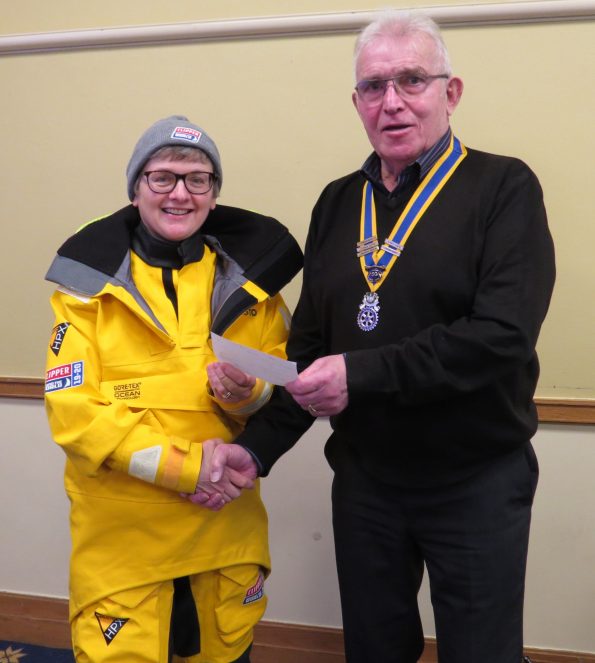 https://www.warwickrotary.org.uk/local-woman-in-yacht-race/
Uncategorized