The Rotary Club of Warwick marked 50 years since the club was established in 1965, with a celebration dinner at the Warwick Hilton last Sunday.
The Mayor, Cllr Mandy Littlejohn, and several Founding members joined President Jon Wassall, members, wives, and friends from other local clubs. The room was decorated with gold balloons and colourful table decorations donated by Inner Wheel and guests were able to view the original Charter and pictures from the archives.
Royal Leamington Spa Rotary the clubs "parent", told members about the early days, and speakers reminisced about past adventures raising funds for local charities such as the 100 mile walk, raffling a car, and tales of fellowship visits to clubs overseas.
Rotary is the original business networking organisation, and members meet weekly, Jon Wassall estimated that over 50 years the club must have raised about one million pounds for charities and local good causes.
To mark the Jubilee the club has funded the refurbishment of one of the benches in Market Square, organised by the Chamber of Trade as part of Warwick Street Pride. Here the Mayor and Sue Butcher, Chair of the Chamber of Trade join Jon Wassall to inaugurate the new bench with its brass plaque commemorating the clubs 50 years service to Warwick.
The club welcomes new members and meets on Wednesday lunchtimes at the Warwick Hilton. www.warwickrotary.org.uk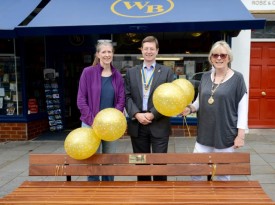 News